Tender Review Service Beneficiary, Dynamix, wins a Welsh National Procurement Award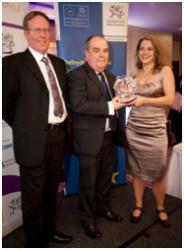 Amy Sanders, Overarching Projects Coordinator & Director, Dynamix, being presented with the Award for "Most Improved Supplier" at the Welsh National Procurement Awards, 2013

Dynamix, a leading Welsh Social Enterprise, from Swansea, in South Wales, have won the Welsh National Procurement Award 2013 for "Most Improved Supplier". This Award recognises and celebrates the improvements Welsh suppliers have made to their tendering activities and success rates.
Dynamix have been able to double their public sector tendering success rate following concerted effort and diligence on their part, together with support from the Bangor University led "Winning in Tendering" project's Tender Review Service.
Since their review from the Institute for Competition & Procurement Studies (ICPS) at Bangor University, they have won 7 out of the 17 tenders they have submitted, compared to 2 out of 10 prior to that in 2011. This has enabled them to increase their turnover by over 36%.
They are now achieving much higher quality scores for their tender submissions. In one tendering exercise, for example, they scored 92%, whilst in the feedback they received from another public sector organisation, they were told:
"It was a unanimous decision across the decision making panel. Your tender stood out so much from all the others. Your tender was such a good example of how a tender should be written".
Not only have they transformed their success rate in winning public sector tenders, but they have had substantial success in 2012 and 2013 in getting on a number of lucrative public sector framework contracts that will significantly help secure their long-term future. They have never been on any frameworks before.

The large, strategically important contracts they won with major public sector customers (such as the Welsh Government) in 2012 has also enabled them to safeguard and enhance their reputation as one of the leading organisations in their field. In contrast, some of the smaller contracts they have won, has given them experience in new areas of work and this has subsequently led to further contracts with other organisations. It has also significantly raised awareness of Dynamix amongst a variety of professional groups and stakeholders.

Dynamix said of the help they received from the "Winning in Tendering" project:

"We have not received any business support like this before! We thought the Review was 'spot-on'...it brought home to us the evaluators perspective and opened our eyes to the wide range of things to consider and include within a tender. It has also enlightened us as to what we can prepare in advance of a tendering exercise using the wide range of templates provided by the Winning in Tendering team."

The second placed Welsh supplier for this Award, Advent Project Management, and the fourth placed supplier, Arwel Jones Associates, were also beneficiaries of the Tender Review Service and have enjoyed similar success to Dynamix since the intervention from ICPS. A full Case Study documenting how Dynamix have been able to transform their tendering fortunes can be found at: www.icps.bangor.ac.uk/case-studies.php.en

The "Winning in Tendering" project is part funded by the European Regional Development Fund through the Ireland Wales Programme (INTERREG 4A).
Publication date: 3 May 2013