Suppliers take-on the role of Public Procurers
Procurement Week 2013, the annual world class procurement and tendering training event, hosted by the "Winning in Tendering" (WIT) project at ICPS, held a unique and innovative Tender Review Service workshop as part of its week-long training offerings, to enable suppliers to gain a deep practical understanding of the art of public sector tendering.
Rather than provide a theoretical seminar, attendees were instead totally immersed for the day into the life of a public procurer, in particular, in the role of evaluators of a fictitious suppliers tender. Participants were required to critique this tender, which had been creatively written by the ICPS WIT team, to deliberately contain many of the common weaknesses and errors often identified in a typical review undertaken by the project's Tender Review Service.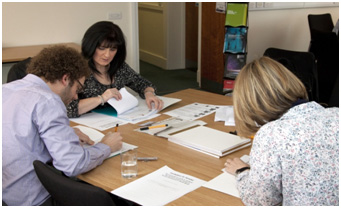 After digesting the procurer's Invitation to Tender documentation and supplier's submission, attendees worked collaboratively to score each element of the submission, and identify strengths, weaknesses and opportunities for improvement. A spokesperson from each group then presented their thoughts and much lively discussion ensued, facilitated by ICPS personnel. To ensure a complete learning experience, the WIT team of Ceri Evans, Dr Pedro Telles, and Gary Clifford finished the session off by presenting comprehensive model answers.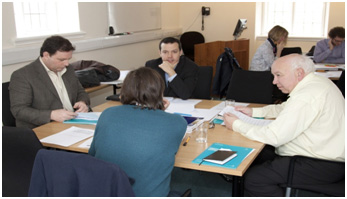 The workshop gave suppliers a rare insight into the perspective of a tender evaluator, whilst simultaneously raising awareness of the common pitfalls to avoid in tendering and best practice tendering methods. The format of the day, in the mould of "learning by doing", proved effective in that it helped attendees internalise the training.
All attendees rated the various aspects of the session as either "Excellent" or "Very Good" and also stated in their evaluation forms that it would most definitely alter their tendering practice. The following quotes showcase how the delegates benefitted from the day:
• "A very valuable, practical and focused morning. Extremely useful – really increased my knowledge and confidence with tender submissions."
• "Very useful workshop, interactive and informative."
• "Great to see tenders from the perspective of the markers."
• "Very good insight into improvements to make and in helping me to understand the tender process better".
• "I found it really useful to understand how tender bids are evaluated. A very valuable, practical and focused morning".

Given the success in running the event, further Tender Review workshops will be held in due course to complement and streamline the one-to-one support provided by the Tender Review Service.

The "Winning in Tendering" project is part funded by the European Regional Development Fund through the Ireland Wales Programme (INTERREG 4A).
Publication date: 3 May 2013