ICPS travel to British Columbia to share their research with the Government of Canada

ICPS' Ceri Evans and Dr Ama Eyo travelled to Vancouver, Canada, in January to share some of the results of their research on SME interaction in public sector procurement with the Office of Small and Medium Enterprises (OSME), part of Public Works and Government Services Canada. This visit was kindly supported by the Bangor University ESRC Impact Acceleration Account.
OSME, a unit within the Government of Canada, have developed an exemplary reputation for adopting innovative approaches to removing barriers to SME participation in public sector procurement and have been especially proactive in utilising research findings to help change practice. Via Tara Hartley, OSME Regional Director for the Pacific Region, OSME have engaged closely with ICPS over the years, having previously adopted the Bangor Tender Review Methodology.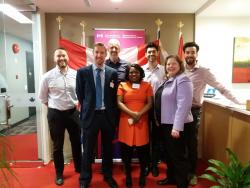 ICPS with members of the Canadian Office of Small and Medium Enterprises (OSME) TeamThis time around, the ICPS mission was to share insights into public procurer feedback and supplier debriefing practices to SME suppliers, and to discuss Bangor's unique Universal Feedback Methodology. This methodology, which provides a standardised approach to feedback provision regardless of contract size and complexity, both complies with the principles of SME-friendly procurement and is also legally sound.
Another major feature of this research impact mission was to share findings from ICPS' research examining the intrinsic reasons for SME failure in public sector tender competitions, and to provide an overview of Bangor's SME-Public Sector Charter and Intervention Methodology to expedite the process of rectifying common and repetitive SME tendering weaknesses. OSME plan to embrace the ethos of this intervention methodology to ensure that SMEs adopt a more strategic approach to bidding for public sector contracts and to encourage public procurers to be more sensitive to SME tendering vulnerabilities. Tara Hartley, OSME Regional Director, said: "ICPS' focus on undertaking applied research has made it easy to see the real-world utility of their research, and makes them attractive collaboration partners".
Publication date: 12 April 2019