Come and join Bangor University's ICPS team as they attend the Smart City Exhibition World Congress in Barcelona
Join us at the Smart City Exhibition World Congress in Barcelona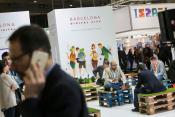 The Smart City Exhibition World Congress in BarcelonaBangor University's Institute for Competition & Procurement Studies is a partner in the PPACT project, a project that is promoting Public Procurement and Cross Border Tendering. PPACT is funded under the European Union. specifically the COSME programme.
As part of our journey to Barcelona we will be meeting:
Meeting SMEs interested in winning contract opportunities across the European Union.

Meeting public procurers who are interested in buying innovative solutions.

Hosting a number of matchmaking activities that link ambitious SMEs to EU contract opportunities.
All of which will take place within the Smart City World Congress in Barcelona, November 2017. http://www.smartcityexpo.com/ca/
Who can participate?
The event is addressed to all those companies that want to find new partners, meet public procurers, and develop their networks across the following Smart City Sectors:
Governance

Waste Management

Water and Sanitation
Mobility
Energy
Safe cities
Economy
Sustainability
Circular economy
Society
Data and Technology
As an SME, why should I participate?
The participating companies will have the opportunity:
To participate in an International event with more than 600 exhibitors, 17,000 visitors and that involves more than 700 cities and 120 countries.

www.smartcityexpo.com/ca/

Receive a personalised agenda with at least 2 international meetings (see the participant section of the event website).

www.b2match.eu/smartcity2017/participants

Participate in F2F meetings with potential partners and procurers.
Publication date: 13 November 2017